Puppie Onesie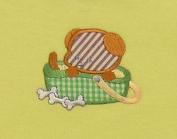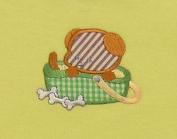 Puppie Onesie
This little puppy is snug in his green gingham basket as he looks down at his juicy bone. He is on a yellow onesie that is made in the USA from 100% cotton.
The onesie is made in the USA of gentle 100% combed cotton fabric, and is specifically designed to fit the contours of a baby, while providing great fit and comfort. It features a 3 snap closure underneath and comes in a delicate lap T design. The neck, sleeve and bottom binding is 3/8".
It is available in sizes 6-12mo and 18-24mo.
Your baby will be excited to show off his new friend while enjoying the comfort that this onesie will give him.
Shipping is free in the USA.